Okay, we made a film.
My long lasting ambition is to make narrative films. When? Well, I'm actually doing it. I have made one recently.
We had the first private screening in Osaka this January. The head photo is the theater in Higashiosaka named Higashiosaka Cultural Creation Hall.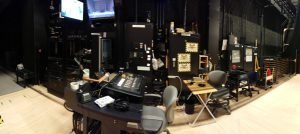 In early 2019, I organized a team for this film from early stage of preproduction. Screenplay was written by two writers. All preproduction tasks including location scouts, casting, props, costumes, crew arrangement and others were accomplished by my team. We had about 30 casts and crews in total. This film is completed in December, 2020.
Many foreign film productions go to Tokyo and its surrounding areas almost by convension. On the other hand, not a few producions face difficulties when it comes to arrangements and filmings for narrative film productions in Tokyo. Osaka and its surrounding areas like Kyoto are sort of a breakthrough for them. We have a history. We are a metlopolitan city. We have something that Tokyo does not have.
DFS Producitons can help narrative and documentary film producions, which seek local production help in Japan.
Written by Hotaka