Director of Photography Services for Team Productions | DFS Productions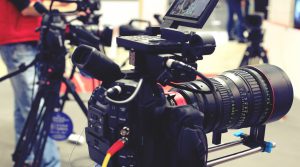 Since its inception in 2012, DFS has been proud to offer Director of Photography services by the highly experienced Hotaka Matsumura, who is bilingual in English and Japanese. Our DP services are ideal for team productions that require a multi-expert camera department. Acting as the head of the department, our Director of Photography will organise team members, including ACs, gaffers, grips, camera operators and other specialist crew such as drone and Steadicam operators, as well as equipment tailored to the needs of each project.
If you're looking for a one-man band of cameramen, please see our bilingual videographers page.
Our DP service is also suitable for remote productions, reflecting the current trend. We offer a remote production service that allows you to direct and monitor the shoot in real time without having to come to Japan.
DFS' main camera is the C300 Mark II, followed by the Sony a7S Mark II or Canon 1DX Mark II. You can view our equipment list here. If you need specific cameras and equipment that we don't have, DFS can arrange it with local dealers.
Contact us to discuss your project and let us help bring your vision to life.
Bring Your Vision to Life with Our Expert Director of Photography
Tailored Camera Departments and Remote Production Services Available
Director of Photography Rates
Basically, estimations for this service will be multifaceted. Provided that camera department as a whole, we need to discuss about projects throughly. So, please contact now.
Rates - Documentaries, Motion Pictures, and Commercials
DFS's main camera is Canon C300 MKII and the second is Sony A7S MKII or Canon 1DX mark II. You can see our detailed equipment list here. Basically, the following rates includes equipment as far as we won't need any additional expenses to rent gears,
| | | |
| --- | --- | --- |
| Package | Day | Week (5 days) |
| Production - Filming | US$800 | US$ 4,000 |
| Pre Production - Planning and Arrangement | US$ 350 | US$ 1,750 |
| Post Production - Processing | US$ 350 | US$ 1,750 |
*The DoP is bilingual in English and Japanese.
The 2020 demo reel is below. You can also watch some of my works here.