Remote Production services in Osaka, JAPAN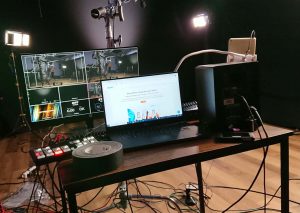 In today's worldwide chaos caused by the pandemic, it is getting harder and harder for foreign productions to visit Japan for their projects. No one knows until when this situation continues. A demand for arranginglocal crew instead of their dispatches are rapidly increasing.
DFS has worked as such local crew for the foreign productions. This function won't be changed from then on. Now, looking at a current stream surrounding the pandemic, what we need to offer for our customer is remote production services.
In this case, the remote production stands for that you can accomplish your project without visiting Japan in person. What is newly introduced for this realm is a remote monitoring system, where the production brains like directors, producers, or/and even DOPs can direct/supervise/monitor actual productions in real time through the Internet using videotelephony applications like Zoom or Google Meet. We have established workflows for this: You can monitor not only studio shootings but also location shootings woth your PC/Mac or even smart phone and tablet.
Remote Production Services in Osaka, JAPAN
You won't need to visit Japan in person. Just watch it.
Remote Production Services in Osaka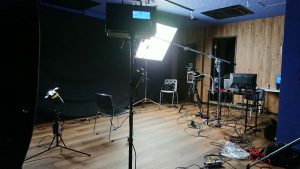 You can direct/communicate with local crew or/and performers in front of camera(s) in real time while watching high quality streaming pictures on your PC or other device. Depending on setups, you can also monitor multiple angles including not only camera A, B, and/or C but also what we call an Ambient Eye. The Ambient Eye is a wide angle camera that capture larger space in the field where recording cameras don't necessarily see. Of course you can watch what the recording cameras exactly see. You can check compositions, exposures, lighting, and even sounds.
What you need for this remote production is simple:
PC/Mac, smartphone, and/or tablet.

A videotelephony

app like Google Meet and Zoom.
The Internet access
You also can connect multiple devices at the same time to a monitoring network if you have a multiple account plan with #2.
Rates | Remote Production services
This service can turn traditional (or face-to-face) productions into remote productions. Our remote production service is available in addition to our camera services, including director of photography or videographer. Estimations depend on the number of cameras included in filming.
If you are in need of live streaming services using Youtube, please refer to: Live Streaming Service in Osaka, Japan | DFS Productions
This service brings one operator, or a remote production technician, with a complete system including a wireless system(s), an Internet device(s), a PC/Mac, a switcher, and a variety of accessories.
| | | | | |
| --- | --- | --- | --- | --- |
| Package | # of cameras in system | Working Hours | Half Day Rates | Day Rates |
| Remote Production Operator | 1 | Up to 10 | - | US$ 500 |
| Additional Camera | +1 | - | - | +US$ 100 |
| Ambient Camera | +1 | - | - | +US$ 100 |
*Our monitoring system can accept up to 4 cameras in total including an ambient camera. To be important, cameras and cameramans are not included in this service.
*This remote production service basically requires each shoot/setup at a fixed location so that a remote production technician can set up/operate the system with a PC.